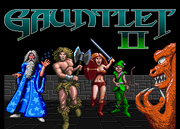 Though
Gauntlet II
was graphically similar to the original
Gauntlet
, it was technically an upgrade on the original in nearly every way. Now, players can choose both their character and color.
Story
The series continues with further dungeon delving, monster killing, and treasure grabbing.
Gameplay
Gauntlet II adds many new features. Rooms may be tilted 90 degrees to surprise players. Invisible walls can block player progress and can even be destroyed.
Characters
The characters can now be assigned to specific colors.
Items
Enemies
---
Gallery
Ad blocker interference detected!
Wikia is a free-to-use site that makes money from advertising. We have a modified experience for viewers using ad blockers

Wikia is not accessible if you've made further modifications. Remove the custom ad blocker rule(s) and the page will load as expected.