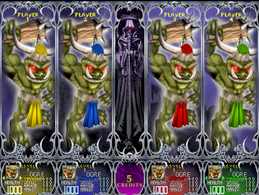 The Ogre is the Dwarf's Beast Within. In direct contrast to the diminutive Dwarf, the Ogre is one of the largest characters around. In Gauntlet: Dark Legacy It can be unlocked by completing the Docks Treasure Room in the Arctic Docks, the first level of the Ice Domain.
Stats
| Gauntlet Dark Legacy Stats | Exp |
| --- | --- |
| Strength | 650 |
| Armor | 400 |
| Magic | 150 |
| Speed | 350 |
Ad blocker interference detected!
Wikia is a free-to-use site that makes money from advertising. We have a modified experience for viewers using ad blockers

Wikia is not accessible if you've made further modifications. Remove the custom ad blocker rule(s) and the page will load as expected.