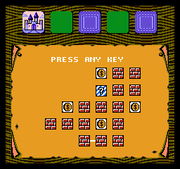 The Castle is one of five areas in Gauntlet. It consists of worked stone walls and maze-like interiors. It's not particularly hard to navigate, but the plethora of Generators and large, open areas mean that monsters can accumulate quickly. Those heroes who survive the Castle will proceed to The Dark Forest.
Ad blocker interference detected!
Wikia is a free-to-use site that makes money from advertising. We have a modified experience for viewers using ad blockers

Wikia is not accessible if you've made further modifications. Remove the custom ad blocker rule(s) and the page will load as expected.